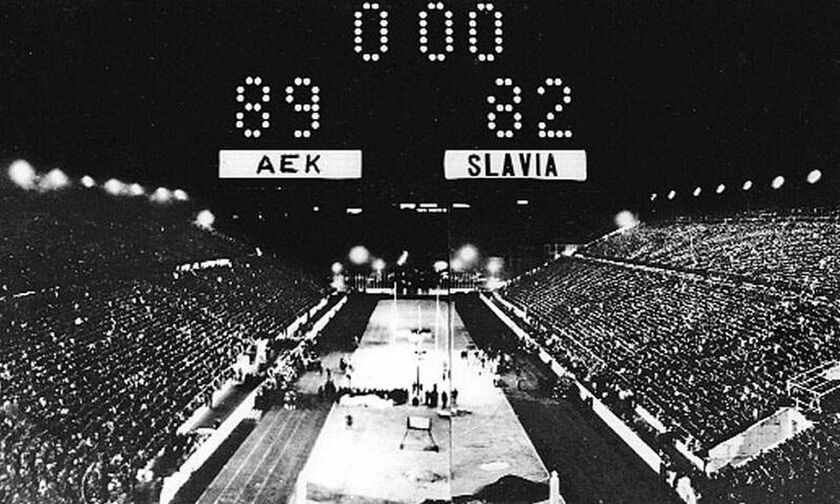 OUR HISTORY
"We will build a club… When we play we will tell our story!"¨
The abhorrence from above of the founder of A.E.K., Konstantinos Spanoudis, played by the actor Antonis Cafetzopoulos, "marked" the epic film "1968" by Makis Angelopoulos-Tasos Boulmetis, but at the same time condensed with absolute clarity its Idea Birth of our glorious Association. Through the flames and ashes of the Asia Minor Catastrophe, it was built to remind the Forgotten Homelands, but also to pass on to the ages the values and ideals of the refugees.
In the sports shop of Emilios and Menelaus Ionas, on Veranzerou Street in the center of Athens, the A.E.K. was founded, by athletes who in previous years competed in the Pera Club of Constantinople, and other Associations of the King of the Cities. At the same time as football, it was created by Costas Dimopoulos, one of the founders of A.E.K. and the Basketball Department, which in 1928 won the first Championship, then called the Center Championship. Since then, he wrote brilliant pages in Greek and international sports, with the 1968 Cup Winners' Cup, in Kallimarmaro, in front of 80,000 spectators, being a permanent "Lighthouse" for the future.
AEK B.C. LEGENDS
GEORGE AMERICANOS
George Amerikanos was an emblematic figure of AEK and the Greek basketball. Borned in Kokkinia (Piraeus) from refugee family and he played basketball in YMCA Nikaia (ΧΑΝ Νίκαιας).
Then, he transfered to the AEK Athens, where he would become one of the best players in the history of the club. He led the team to won the first European Championship in 4 April 1968 in the final at Panathinaiko Stadium (Kalimarmaro).
George Amerikanos won 6 Greek League Championships (1963, 1964, 1965, 1966, 1968, and 1970) and was also the Greek League Top Scorer twice during his career with AEK. Also, he led the team to the final four of the FIBA European Champions Cup of the 1965-66 season.
In 7 October 2013, he died at 71 years old, causing grief to his family and the Greek basketball.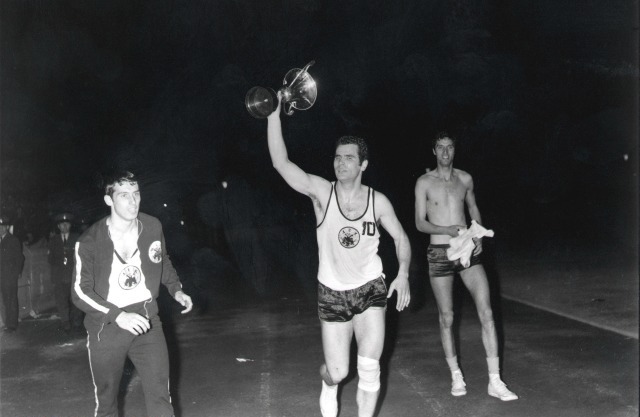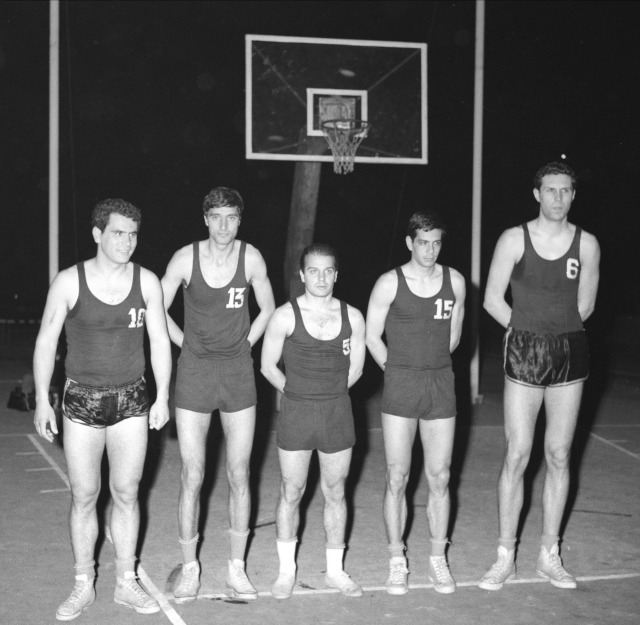 GEORGE MOSCHOS
George Moschos was one of the most emblematic figures of AEK Athens. He started his career from Panellinios and he won the Greek Championship in 1957. In season 1960-61, he moved to Iraklis Salonica and then he transferred to AEK Athens.
He won 4 Championships (1963, 1964, 1965, 1966) and participated in final four of the FIBA European Champions Cup of the 1965-66 season, but he moved back in Athens immediately because he suffered with cancer. George Moschos went to Final Four because he had a dream to win a European title. That was the last game of his career. He died in age of 29 years old in 28 December 1966.
His teammates never forgot him and in the name of his memory they won the European Championship in 4 April 1968.
AEK BC TROPHIES
1957-1958
Greek ChampionshipVangelis Sevdinoglou, Vangelis Dermanoutsos, Nikos Mpampanikolos, Panagiotis Evaggelatos, Konstantinos Karamanlis, Giorgos Papathanasiou, Spiros Tzekos, Odisseas Tzilitzohlou, Nikos Chatziraptis, Nikos Terkesidis, Giorgos Iliadis, Notis Panoutsos, Menelaos ΧenoudakisCoach: Κonstantinos Karamanlis
1962-1963
Greek ChampionshipGeorge Amerikanos, Stelios Vassiliadis, Aias Larentzakhs, Vangelis Dermanoutsos, Lakis Tsavas, George Mosxos, Vangelis Nikhtopoulos, Nikos Babanikolos, Antonis Christeas, Panagiotis Oikonomou, Dimitris Theodoropoulos, Menelaos Xenoudakos.Coach: Misas Pantazopoulos
1963-1964
Greek ChampionshipGeorge Amerikanos, Stelios Vassiliadis, Aias Larentzakhs, Vangelis Dermanoutsos, Lakis Tsavas, George Mosxos, Vangelis Nikhtopoulos, Nikos Babanikolos, Antonis Christeas, Panagiotis Oikonomou, Dimitris TheodoropoulosCoach: Misas Pantazopoulos
1964-1965
Greek ChampionshipGeorge Amerikanos, Stelios Vassiliadis, Aias Larentzakhs, Vangelis Dermanoutsos, Lakis Tsavas, George Mosxos, Vangelis Nikhtopoulos, Antonis Christeas, Panagiotis Oikonomou, Dimitris Theodoropoulos, Νikos Nesiadis, Giorgos Trontzos, Christos ZoupasCoach: Misas Pantazopoulos
1965-1966
Greek ChampionshipGeorge Amerikanos, Stelios Vassiliadis, Aias Larentzakhs, Vangelis Dermanoutsos, Lakis Tsavas, George Mosxos, Vangelis Nikhtopoulos, Antonis Christeas, Panagiotis Oikonomou, Dimitris Theodoropoulos, Νikos Nesiadis, Giorgos Trontzos, Christos ZoupasCoach: Misas Pantazopoulos – Themis Cholevas
1967-1968
Greek Championship and European Cup Winners CupGeorge Amerikanos, Stelios Vassiliadis, Aias Larentzakhs, Antonis Christeas, Giorgos Trontzos, Christos Zoupas, Νikos Nesiadis, Lakis Tsavas, Andreas Dimitriadis, Petros PetrakisCoach: Nikos Milas
1969-1970
Greek ChampionshipGeorge Amerikanos, Stelios Vassiliadis, Aias Larentzakhs, Antonis Christeas, Christos Zoupas, , Giorgos Trontzos, Νikos Nesiadis, Stavros Vafopoulos, Thomas Bogdanidis, Nikos Dianas, Vasilis, Nidriotis, Spiliotis, Vilis, Thanasis ChristoforouCoach: Nikos Milas
1980-1981
Greek CupVasilis Goumas, Kert Rampidis, Minas Gekos, Giannis Kanakakis, Vasilis Giannopoulos, Vaggelis Fotsis, Nikos Apostolidis, Tasos Velegas, Koroneos, MargaritisCoach: Frank Devely
1999-2000
Greek Cup and FIBA Saporta CupDimitris Misiakos, Steve Hansel, Nikos Chatzis, Aggelos Koronios, Dimos Dikoudis, Iakovos Tsakalidis, Martin Müürsepp, Anthony Bowie, Michalis Kakiouzis, Nikos Papanikolopoulos, Dan O'SullivanCoach: Dušan Ivković
2000-2001
Greek CupSpiros Panteliadis, Vasilis Kikilias, Nikos Chatzis, Dimos Dikoudis, Martin Müürsepp, Dimitris Misiakos, Nikos Zisis, Michalis Kakiouzis, İbrahim Kutluay, Andy Betts, Gert HammingCoach: Dušan Ivković
2001-2002
Greek Championship"J.R." Holden, Nikos Zisis, Christos Tapoutos, Nikos Chatzis, Vasilis Kikilias, Dimos Dikoudis, Jim Bilba, Andy Betts, Michalis Kakiouzis, Giannis Bourousis, Chris Carr, Arijan Komazec, Spiros Panteliadis, Alexander LazicCoach: Dragan Šakota
2017-2018
Greek CupKevin Punter, Delroy James, Mike Green, Manny Harris, Vasilis Xanthopoulos, Dusan Sakota, Panagiotis Vasilopoulos, Edin Atic, Giannoulis Larentzakis , Giannis Agravanis, Dimitris Moraitis, Vasilis Kavvadas, Vince Hunter, Michalis Kamperidis, Nikos Rogkavopoulos.Coach: Dragan Sakota
2017-2018
Βasketball Champions LeagueKevin Punter, Delroy James, Mike Green, Manny Harris, Vasilis Xanthopoulos, Dusan Sakota, Panagiotis Vasilopoulos, Edin Atic, Giannoulis Larentzakis , Giannis Agravanis, Dimitris Moraitis, Vasilis Kavvadas, Vince Hunter, Michalis Kamperidis, Nikos Rogkavopoulos.Coach: Dragan Sakota
2019
FIBA Ιntercontinental CupDelroy James, Vassilis Xanthopoulos, Dusan Sakota, Giorgos Tsalmpouris, Jonas Maciulis, Giannoulis Larentzakis, (Stergios Prapas), Dimitris Moraitis, Malcolm Griffin, (Vassilis Kavvadas), Jordan Theodore, Howard Sant Roos, (Nikos Rogkavopoulos), Charis Giannopoulos, Vince Hunter.Coach: Luca Banchi
2019-2020
Greek CupZisis Nikos, Gkikas Nikos, Ray Kendrick, Toliopoulos Vassilis, Langford Keith, Chalmers Mario, (Prapas Stergios, Spiroglou Anastasis, Tigkas Filippos), Chrysikopoulos Linos, Jankovic Vlado, Maciulis Jonas, Giannopoulos Charis, Rogkavopoulos Nikos, Slaughter Marcus, Mavroeidis Dimitris, Kaklamanakis Dimitris, Grant Jerai.Coach: Ilias Papatheodorou